Journal Entry:
Thu Dec 3, 2009, 5:34 PM
Hi!

I've been a little away from DA lately. We're reaching the end of the first semester at college therefore we have loads of works to deliver and present. I've been very tired. Seems like I don't have time to do anything apart from school projects.

Christmas is near and I really need to start buying presents, find the time to make the Christmas tree and all the other decorations, send Christmas cards and take some Christmas pics. I'm in a Christmas mood

Last weekend I went to the circus and managed to get some nice shots from the big Christmas tree they had there. In the same weekend I bought some star lights to hang on my bedroom. Here they are: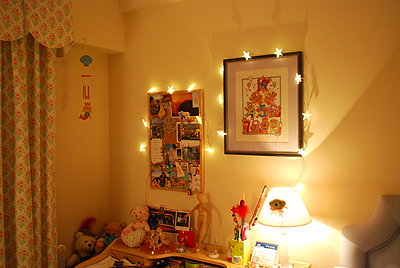 I'm very happy with them


And what about the new Twilight movie? Have you seen it? Some weeks ago I went to the premier. I didn't enjoy it apart from Jacob's abs XD. It had bad acting, bad soundtrack and no emotion. And it is my favorite book from the collection, dammit!
More talking later, now I've to go to sleep. I have a presentation tomorrow.
~Bye

Features
Reading: "Ema" by Jane Austen
Drinking: Water